Biography
Born in London, Geraldine originally qualified as a teacher at St. Mary's College, Strawberry Hill, specialising in music and studying singing, piano and harp before following a further four year course at the Royal College of Music. Her studies here also included courses in Drama, German and Italian.
Whilst at the R.C.M. she won several prizes including a scholarship for study at the "Mozarteum" in Salzburg.
Her teachers have included Hervey Alan and Rita Streich for singing and Gwendolen Mason, Skaila Kanga and Daphne Boden for harp.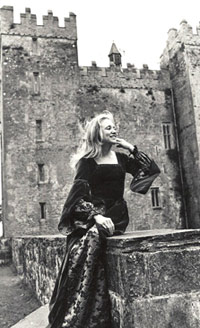 At Banratty Castle
After two years in Ireland performing as a soloist at the world famous Bunratty Castle in County Clare, she spent several years touring the United States. Based initially in Chicago, then New York and Connecticut, she performed coast to coast in concerts and appeared on national television and radio shows.
She then travelled to Bermuda where she performed at one of the top hotels for six months before returning to England.
Geraldine has held residencies at West End Hotels, including the "Savoy" and has played at many castles, historic buildings and stately homes throughout the United Kingdom. She has performed before many famous personalities and members of the Royal Family, including Prince Charles, the late Queen Mother and Princess Alexandra.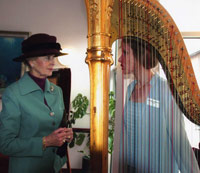 With Princess Alexandra
She has performed on various cruise liners, including the Fred Olsen "Boudicca" and the Cunard "Queen Victoria" and "Queen Mary 2".
On the latter she gave recitals of harp music and songs with harp accompaniment in the famous Royal Court Theatre and started the precedent of giving recitals in the "Winter Garden". She also worked with the resident actors from the Royal Academy of Dramatic Art in a series of poetry and music recitals entitled "Hearts and Harps", where readings of poetry and prose were interspersed with her renditions of songs and harp music.
As well as concerts and recitals she plays for Weddings, Corporate and Business Functions, Christenings, Anniversary and Birthday Celebrations. Her extensive repertoire consists of light classical, folk music and arrangements of popular songs and show tunes.
Whatever the function, Geraldine is happy to adapt her repertoire to suit the occasion and the wishes of the client.
She uses a top of the range Lyon and Healy gold harp which, with its magnificent sound and appearance is guaranteed to enhance any function.